Disclosure: As part of the Netflix Stream Team, I received a welcome gift and a free monthly subscription. However, all opinions are 100% honest and my own.
Just like most moms, I worry about my kids watching too much TV. I rely on it during my blogging and workout times, and let's face it, sometimes turning on a movie gives me a much needed break. So instead of worrying about it, I've decided to focus on picking quality programs that they can learn something from instead of just mindless entertainment (I'm sure you know what I'm talking about moms, Caillou ::cough cough::). Last week I did a happy dance when I discovered that Netflix has added Disney Junior's Little Einsteins into their kids section. Since we don't have cable, my kids haven't had the chance to watch it before and it has quickly become a favorite for both of them.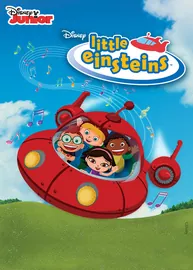 Little Einsteins focuses on a group of kids that travel with Rocket on adventures based on a piece of art. Artists from Da Vinci to Andy Warhol are featured and kids learn about art forms from different cultures. Each episode also features the music of the day which highlights a famous composer's work. It is an excellent way to expose preschoolers to fine art and classical music!
Grace is obsessed with arts and crafts so I thought her love of Little Einsteins would be a perfect way to introduce her to one of my favorite artists, Claude Monet. In season 2, Monet's Water Lilies paintings are featured in the "Melody the Music Pet" episode. We watched the episode and then recreated Monet's Bridge over a Pond of Water Lilies. It is one of my absolute favorite paintings. Check out the original at the
Metropolitan Museum of Art's website
, I've been lucky enough to see it person and it's gorgeous!
I used large Crayola finger paint paper and created a bridge using painters tape. I cut the tape in half to make thinner lines. Next time I would probably try masking tape because when I tried removing the tape it tore the paper in places.
After the watercolors had dried, I gave Grace a circle foam brush and red finger paint to create her flowers.
After all of the paint dried, I removed the tape to reveal the bridge. Like I said, it tore the paper a little bit but I used a glue stick and was able to repair most of the damage. Grace was so proud of her finished artwork!
Check out what else is new on Netflix this month for kids and families:
What are you watching on Netflix this month?