Thanks to Melissa over at
Growing Up Geeky
for letting me co-host this weeks Toddle Along Tuesday! This week's topic is Halloween.
Halloween holds a special place in my heart since it is also my birthday. Last year, I spent it
recovering from heart failure
, so this year I hoped it would be a fun day. When my c-section was scheduled for October 29th, we knew that we would be spending our Halloween in the hospital. Even though Connor was only 2 days old, I had to get him a costume too! We paraded down the halls and the nurses enjoyed seeing them both in costume. Grace is luckily not old enough to be disappointed that we didn't trick or treat. I got lots of cute pictures and it will always be a fun memory of the hospital stay for Connor's birth.
Grace was an adorable bumble bee!
A better picture of her from a Halloween party we went to earlier in the month.
Connor was Winne the Pooh. The costume was huge, but I couldn't resist.
He was not happy that he had to lay in the bassinet while parading in the halls
Big sister proudly helped push him around the halls
The best family picture we could get!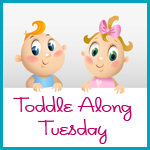 This week's Toddle Along Tuesday the topic is Halloween! Share your photos from trick-or-treating, parties, or whatever you did! There are no rules here, except that you link up a relevant post (old or new) rather than your whole blog.