There are some big changes here on my blog this week! First, I'm in the middle of a redesign. I've been wanting to do one for quite a while, but as the least creative person in the world, it has taken me this long to actually sit down and do it. So bear with me for the next few days with the changes.
Second, I am officially a Nuby Mom Blogger!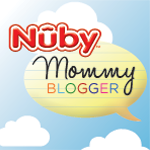 Grace and I love Nuby and are excited to try out some new products! I will be reviewing some great toddler items and will be giving away a few as well. I can't tell you how excited I am about this. I think Mike is getting sick of hearing me talk about it!
I hope everyone has a great weekend!