I'm linking up to
Growing Up Geeky's Toddle Along Tuesdays
blog hop today and the theme is "Introducing your child."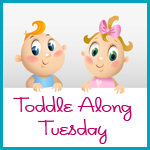 While most of you who read my blog regularly probably know a lot about Grace already, I thought I'd refresh your memories!
Grace was born on January 14th at 9:25 PM. Even in the womb, she showed her personality by kicking her mommy's ribs constantly and by refusing to come out on time..She's pretty stubborn and has always tried to figure out how to get her way!
Grace loves eating,
here
or check out Grace's birth story
here
!