I'm linking up to the Toddle Along Tuesday blog hop today over at
Growing up Geeky
and the topic is something that you love about your child.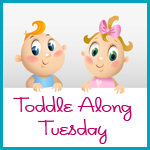 I will be honest, when I sat down to write this post, I thought: Wow, this is going to be easy! And then I started thinking.....and thinking....and thinking some more. I could write about thousands of things I love about her. Seriously, I can't choose just one! I could write for days about every little thing she does that makes my heart melt and all the times she makes us laugh, but I know you don't want to read that much and eventually I do need to go to bed, so I finally picked one thing.
I love her spirit. I love that she is strong willed and fiery. She knows what she wants and she gets it. I was always a pretty passive child. Overall, I still tend to be more of a follower than a leader. But not Grace, I can already tell she's got her daddy's spirit. She will be a leader. It's funny how I can tell that already but it's pretty obvious to me! She has no fear and she is getting to be so out going. She turns around in the shopping cart trying to get everyone's attention and she leans her head back in her high chair in restaurants and tries to talk to people. I see so many laid back babies, Grace is not one of them! She is such a little personality already and I love seeing it come out more and more each day!
One of the first times she pulled up on her activity table, please ignore the drool!