I am so excited to be the featured blogger for a wonderful blog hop- Toddle Along Tuesday!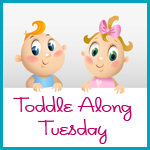 Mama G and Kristin both have great blogs so be sure to go link up now!!
Welcome to all of my new readers! I just changed my URL and blog design, so feel free to look around and be sure to leave me a comment so that I can follow you back.